Clutch Assembly - ATC500 8472220201 8472220191
Clutch Assembly (for ATC500 Transfer Case), OE #8472220201
Description:
This is clutch assembly that contains of Drive sprocket, couple of Grips (Arms) 8472220201 and 8472220191, Bearings, Hub, Friction set - the unit is ready to install and doesn't require any adjustments.
Transfer case application:
ATC-500 -

 

BMW X5 LCI

 

E53 2003 -> 2006
Reference transfer case numbers: 27107526279, 27107535869, 27107555295, 27107555297.
We accept credit cards and Paypal.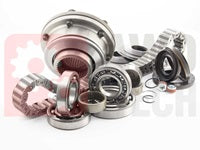 PL72T Overhaul Kit
Shop now!