Remanufactured Transfer Case Unit
PL72ATC Remanufactured Transfer Case (fits Cayenne), OE # 0C2341012K, 95834101008, 958341010HX
Description:
Transfer case already includes actuator (all photos are of actual spare unit) - what you see is what you buy!
Price already includes 500 EUR core deposit that will be refunded after faulty unit return.
What's Included: PL72ATC Transfer Case Unit that is absolutely same to spare part # 0C2341012K, 95834101008, 958341010HX from Porsche's catalog.
Warranty coverage: 12 month or 30`000 km mileage - whichever occurs first.
Transfer case application: 
PL72 ATC - Porsche Cayenne 958 2010 -> 2015
Reference transfer case numbers: VAG 0C2341012K, 95834101008, 958341010HX, 00004311011, 0C2341010M, 0C2341010Q, 0C2341011C, 0C2341011F, 0C2341011K, 0C2341011Q, 0C2341011_, 0C2341012F, 0C2341012K, 95834101001, 95834101002, 95834101003, 95834101004, 95834101005, 95834101006, 95834101007, 95834101008 95834101009, 958341010AX, 958341010BX, 958341010CX, 958341010DX, 958341010EX, 958341010FX, 958341010GX, 958341010HX.
Important notice about warranty: This complex spare unit requires professional installation and special equipment to reset adaptations after installation. Warranty requests must include written proof of professional installation and evidence that the unit was properly coded during installation. Warranty requests that do not include written proof of professional installation will not be honored. 
Core Return Policy: Refund of core charge will be sent in 3 business days after the unit has been received by us. Buyer has 60 calendar days to return. The transport needs to be organized by the buyer according DAP Vilnius, Lithuania, LT-21401. To return the cores please use the original package. The gearbox must be complete, assembled and completely drained off oil.
We accept credit cards and Paypal.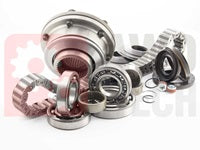 PL72T Overhaul Kit
Shop now!