Sealing Kit (for VG150 Transfer Case)
Description:
What's Included: 
O-Rings - A0119977445, A4639970645
Radial Sealings - A0159970847, A4639970345
Deflector - A0169976147
+ 2 special sealings having no public OE numbers
Please see the photos above - what you see is what you buy. All the parts are brand new and original.

Transfer case application:
Fits transfer cases with OE numbers: 750.653, A4632801500.
Contains parts with OE numbers: A0159970847, A0169976147, A0119977445, A4639970345, A4639970645.
We accept credit cards and Paypal.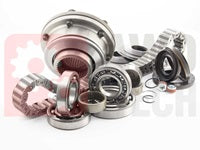 PL72T Overhaul Kit
Shop now!